The North Coast Division 4 Welcomes You!
Our members are dedicated to furthering the hobby of model railroading through public displays, community involvement, and educational activities. The division models all scales and railroads, and welcomes new members, especially newcomers to the hobby. There is always plenty to do and learn, so come join the fun. Join us at our monthly meetings for enjoyable clinics, camaraderie, and fun! Meet with fellow railroad modelers and find out the answers to all your questions. Refreshments available. You do not need to be a member to come to the meetings.
---
Looking for something to do? Here is the web site for the Cleveland area TRAIN SHOWS! www.cleveshows.com and view our web Fliers of Cleveland Shows here!


---
WELCOME!
To all members,
The Board of Directors will be having the summer BOD meeting on Saturday August 22nd at 9 AM.  This meeting will be held using Zoom through our computers or cell phones and is open to all Division 4 members.  If you would like to attend please contact David James via email at "david.j@brtcharter.com" so he can send you an invite to connect to the meeting.  
Lee Sheffield
Superintendent, Division 4
Members of Division 4
     After debating this over the last couple weeks I have decided to pull the plug on our Summer Picnic scheduled for August 8th.  I really thought the covid bug was starting to taper off but it ended up being a dream, or a nightmare depending on how you want to look at it.  Over 95% of the responses I received from the email I sent out asking for a vote were pretty much the same across the board with "cancel it" or "I won't attend" being the most common.  If we still had the picnic everyone would have to wear a mask, keep proper distancing and we would not be able to accomodate side dishes brought by those attending.  And someone would have to have been a designated server.  Sure doesn't sound like an enjoyable picnic to me.  And as I have said before, I just don't think I could live with myself if someone got sick because of us.  So enjoy a picnic of your own on that Saturday, keep your hands washed and wear a mask if you have to go out.  We are still planning on having our first meeting of the year at the Westlake Community Center on September 11th.  The room is of sufficient size that we can accommodate 80 people and still maintain proper distancing.   Keep working on those Model Railroad projects and be ready to show them off to the membership when we get up and going again.  
     As a side note, while watching the latest version of What's Neat one of the main guys at TrainWorld mentioned that the model railroading hobby has been growing dramatically during this pandemic.  He is seeing a noticeable upsurge in model railroading spending as model railroading is being used as a way to cope with the situation.   
     Take care and see everyone on September 11th.  Just close your eyes and tap your heels together and say "No place like trains, No place like trains".  OK, did you crack a smile or a laugh, then it worked.  Let's get through this.
Thank you,
Lee Sheffield
Superintendent Division 4
THE NEXT MEETING IS FRIDAY, SEPTEMBER 11, 2020

These are difficult times and as such, require everyone to aware and diligent when going about their daily business. We want you all to be safe and will do our best to keep you informed. We send out emails to all the members, but with so much internet traffic in these times, they do not always get to you (I get emails returned for various reasons). So if you think there may be a schedule change for a meeting or other gathering that we are involved with, please check the North Coast Division 4 web site before you venture out to an event or meeting. I post any changes I receive when I get them, that could happen anytime up to an hour or two before an event. So check the web site to be sure it is still going to happen. www.div4.org Cancelations will be on the Home page and/or the Events and Modules pages as necessary. Check the Division 4 facebook page first!
You may find it on our Facebook page, you just have to look. Don't forget, cancellations can be entered on the Facebook page by you if you know of any.
STARTING SEPTEMBER 11, 2020
Our monthly meeting with be at the
Westlake City Recreation Center
28955 Hilliard Blvd, Westlake, OH 44145
---
---
Viewers can learn about the hobby of Model Railroading and how the NMRA provides benefits and adds to the enjoyment of the hobby with the following video.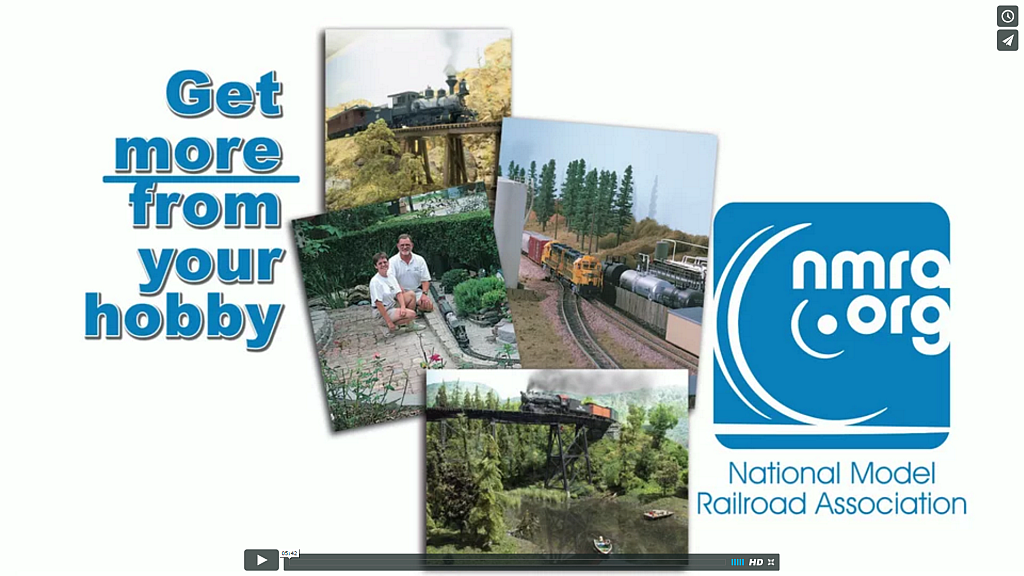 I am looking for authors who want to have their articles published. The web site qualifies for AP points in published articles for authors. It's so easy!
WANTED! Your model railroad photos, to be published on this web site. I am looking for photos from TRAINing Day, the Great Berea Train Show, Your Home Layout and other model railroad events or curiosities.
Bylaws will be posted when we get the new revision 2/12/2020

The happiest people don't have the best of everything, they just make the best of everything.


DIVISION FOUR MID-CENTRAL REGION, NATIONAL MODEL RAILROAD ASSOCIATION, INC.
Charter/Registration Number - 591522 Incorporated - March 22 1982 A 501(c)3 Educational Organization
This page last updated:
facebook address:
www.facebook.com/divfour

Flatwheel Newsletter
Deadline for next Flatwheel Aug. 26!
MEMBERS PHOTOS
John F. Hughes' Photo of contest Flatcar