CHECK OUT THIS VIDEO!
I am taking orders for the NEW Great Berea Train Show shirts and hats. To order either item they can call me at: 440-785-9907 or e mail at: showmanager@thegreatbereatrainshow.org David James.
Shirts are: $ 15.00 Hats are: $ 16.00 The combo deal is a shirt and hat for: $ 25.00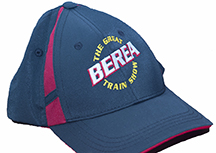 Camping at the Fairgrounds: You are welcome to bring your RV/Camper/Trailer and camp on the Fairgrounds during the GREAT BEREA TRAIN SHOW - HOWEVER - you must get a permit in advance from the fair board. (We get fined otherwise) If you need help getting the permit, let Dave [440-785-9907] know well in advance. We do not have the ability to get permits when you check in.
This page last updated: